We are just one trumpet in the symphony of watermelon creativity when it comes to recipes and usage ideas.
Watermelon Friends listed on these pages are part of paid sponsorships with the National Watermelon Promotion Board.
Interested in joining our community? Introduce yourself! 
Bianca Dottin, Lifestyle Blogger and Mom
Bianca Dottin is a Florida-based lifestyle expert and mama on a mission. Her goal is to inspire other moms to create a lifestyle they love by sharing simple DIYs and tips and tricks that make everyday life easier. You can count on Bianca for family friendly recipes and watermelon inspired DIYs that are easy to recreate.
Anne Mauney, fANNEtastic food
Anne is a registered dietitian living in the D.C. area helping people to live happier, healthier lives. She's a mother, marathoner, yogi and lover of the outdoors, adventure, travel and healthy recipe creation. Anne ran the Marine Corps Marathon on behalf of watermelon, and continues to advocate for a healthy, happy lifestyle.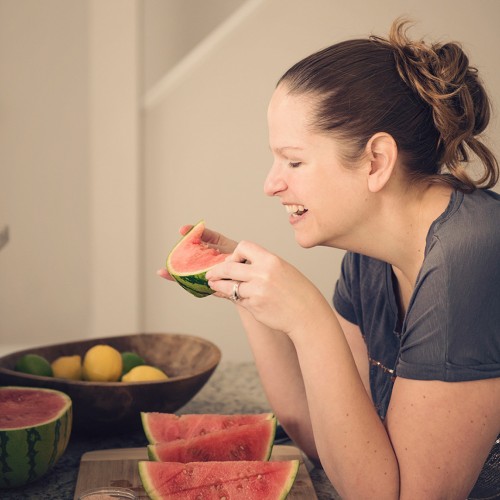 Chrissy Carroll, Snacking in Sneakers
Chrissy Carroll is a vibrant registered dietitian blogger and social media enthusiast. On her blog, Snacking in Sneakers, she shares posts about balancing food, fun and fitness. Much of her content is centered on running and triathlon – including training tips and meals for active women – as Chrissy is a marathoner and triathlete herself, as well as a USAT Level I Triathlon Coach. Combining her professional and personal passions, she authored "Eat to Peak: Sports Nutrition for Runners and Athletes."
Try Chrissy's Homemade Watermelon + Serrano Pepper Hot Sauce
Kim Rose, Registered Dietitian Nutritionist and Certified Diabetes Educator
Kim Rose is a Florida based clinical registered dietitian nutritionist who has a special focus for health and wellness concerns for underserved populations. Her inclusive approach and philosophy revolve around "making nutrition easy and attainable". Kim does this by addressing common and complex food and wellness topics for the general public and health professionals alike by contributing to multiple media outlets.
Jennifer Fisher, The Fit Fork
Lori Taylor, The Produce Moms
Abbie Gellman, Culinary Nutrition Cuisine
Abbie Gellman, MS RD CDN is a chef, registered dietitian and founder of Culinary Nutrition Cuisine, a culinary nutrition company. Abbie has more than 10 years of Wall Street and hospitality/food and beverage consulting experience and 10 years of nutrition-related experience.
Join our community
Share the watermelon love!
Stay on top of what's happening with Watermelon
Sign up here to receive the monthly What About Watermelon? enewsletter with seasonal tips, tricks and recipes.