We are just one trumpet in the symphony of watermelon creativity when it comes to recipes and usage ideas.
Watermelon Friends listed on these pages are part of paid sponsorships with the National Watermelon Promotion Board.
Anne Mauney, fANNEtastic food
Anne is a registered dietitian living in the D.C. area helping people to live happier, healthier lives. She's a mother, marathoner, yogi and lover of the outdoors, adventure, travel and healthy recipe creation. Anne ran the Marine Corps Marathon on behalf of watermelon, and continues to advocate for a healthy, happy lifestyle.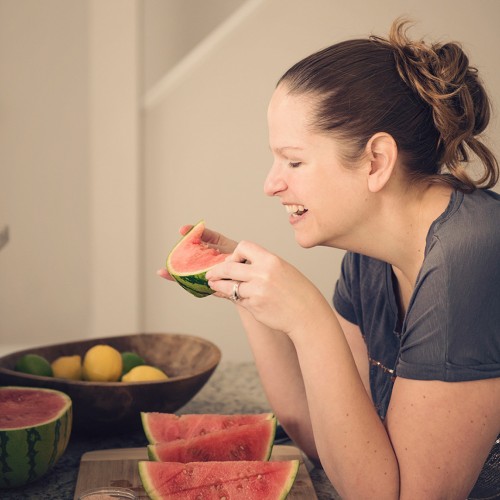 Chrissy Carroll, Snacking in Sneakers
Chrissy Carroll is a vibrant registered dietitian blogger and social media enthusiast. On her blog, Snacking in Sneakers, she shares posts about balancing food, fun and fitness. Much of her content is centered on running and triathlon – including training tips and meals for active women – as Chrissy is a marathoner and triathlete herself, as well as a USAT Level I Triathlon Coach. Combining her professional and personal passions, she authored "Eat to Peak: Sports Nutrition for Runners and Athletes."
Read Chrissy's 3 Reasons to Include Watermelon in Your Pre-Workout Meal
Jennifer Fisher, The Fit Fork
Jennifer is an elite master runner, award-winning recipe creator, food & fitness blogger, healthy cooking coach, spokesperson and competitive athlete. Look to Jenn for healthy, well balanced meal solutions. She has even created Watermelon Workouts using the watermelon as a piece of workout equipment!
Check out Jenn's Refreshing Watermelon Veggie "Reviver" Drink"
Lori Taylor, The Produce Moms
The Produce Mom is a passionate advocate for the fresh produce industry: inspiring families to eat more fruits and vegetables, introducing consumers to produce brands, and rallying the produce industry to converse with the consumer.
Abbie Gellman, Culinary Nutrition Cuisine
Abbie Gellman, MS RD CDN is a chef, registered dietitian and founder of Culinary Nutrition Cuisine, a culinary nutrition company. Abbie has more than 10 years of Wall Street and hospitality/food and beverage consulting experience and 10 years of nutrition-related experience.
Join our community
Share the watermelon love!
Stay on top of what's happening with Watermelon
Sign up here to receive the monthly What About Watermelon? enewsletter with seasonal tips, tricks and recipes.