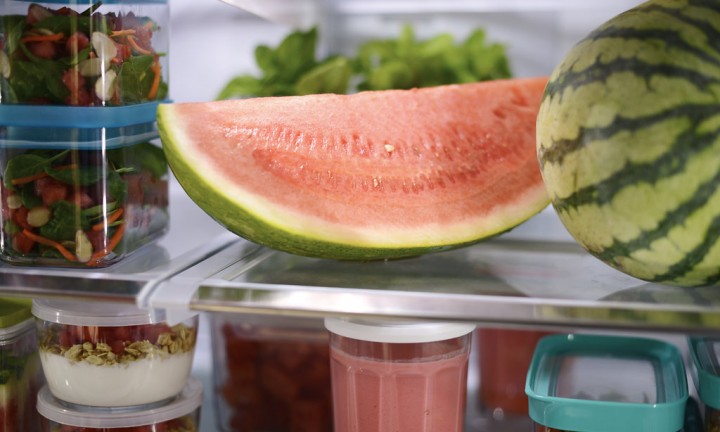 MyPlate is a helpful reminder to find your healthy eating style – starting today and building it throughout your lifetime.
MyPlate offers ideas and tips to help you find the right mix for your individual needs. This includes:
Focusing on variety, amount and nutrition
Choosing foods and beverages with less saturated fat, sodium and added sugars
Starting with small changes to build healthier eating styles
Supporting healthy eating for everyone
When building your plate, make half your plate fruits and vegetables – including watermelon! Watermelon is naturally low in fat, sodium and calories, and has no cholesterol. It is also a source of many essential nutrients that are under consumed, including potassium, dietary fiber, vitamin C, and folate (folic acid).
In general, 1 cup of fruit or 100% fruit juice, or ½ cup of dried fruit can be considered as 1 cup from the Fruit Group.
1 Cup Watermelon = 1 small (1" thick) slice or 1 cup diced
The amount of fruit you need to eat depends on age, sex, and level of physical activity. Recommended daily amounts can be found on the MyPlate website.
Today, about half of all American adults have one or more chronic diseases, often related to poor diet. The 2020-2025 Dietary Guidelines for Americans emphasizes the importance of creating a healthy eating pattern to maintain health and reduce the risk of disease. Everything we eat and drink — the food and beverage choices we make day to day and over our lifetime — matters.
Use the 2020-2025 Dietary Guidelines to get started.
Use these helpful and fun resources to start your lifestyle of healthy eating and living. Click any of the images below to download and start using!
Kid-friendly Lunchbox Ideas
Lunchbox Cards

Recipes

Watermelon Slice Popsicles

Recipes

Watermelon Kebobs

Recipes

Watermelon Cutout Cookies

Recipes

Watermelon Dippers
Join our community
Share the watermelon love!
Stay on top of what's happening with Watermelon
Sign up here to receive the monthly What About Watermelon? enewsletter with seasonal tips, tricks and recipes.