To better understand cutting, yield and shelf life of watermelon, the National Watermelon Promotion Board (NWPB) conducted a cutting, yield, and storability study in 2015. The Board worked with the Food Innovation Center, a part of Oregon State University, to conduct the research.
First, six chefs and retail food handlers were selected. The six included representatives from Sheridan Fruit Company, Whole Foods, Moberi, Pale's Place, Oregon Health & Science University and Oregon Convention Center. Those representatives were observed cutting watermelon. Lastly, they took part in an interview about using watermelon. Some key takeaways from the interviews included:
All but one organization used watermelon year-round.
Between the six interviewees, there are many different uses for watermelon:

Most use watermelon in beverages in addition to fresh cut applications.
Other primary usage included fresh cut, salads, garnish, protein accompaniment, fruit plate or bowl, etc.

After watermelon is cut the rind is composted or pickled – great food waste message!
Between the six organizations, they used four different cutting methods. The cutting methods were evaluated in the lab based on time to cut and yield. Once the best method was defined, there were 50 watermelons from three key sizes analyzed: 36, 45, and 60. This is the cutting method to receive the yield as stated below.
Using safe handling practices, as outlined by USDA, this cutting sequence resulted in the highest yield of cut fruit. Remember to wash your watermelon before cutting.
Cutting off the ends, providing a base and access to the peel and rind.
Angle the knife, placing it where the white rind meets the red flesh and following the curve of the fruit, cut off the rind.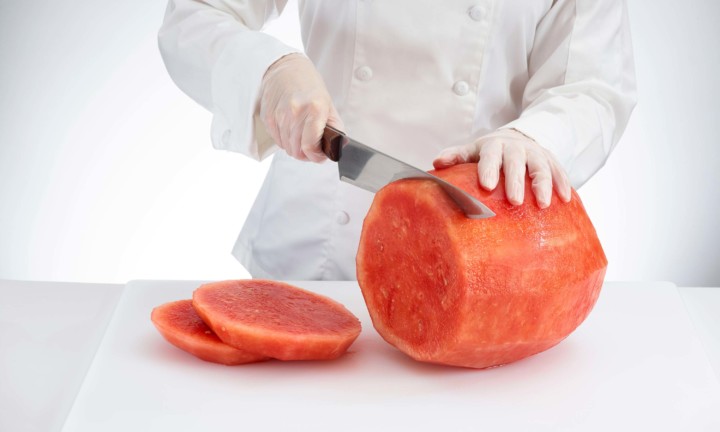 Cut the whole watermelon into disks, width-wise in the desired size of cubes.
Lay the disks face down, pushing the smaller disks to one side and cut same size strips in both directions.
| | | | |
| --- | --- | --- | --- |
| Size | 60 | 45 | 36 |
| Time (min) | 2.50 | 2.58 | 3.05 |
| Flesh (lbs) | 8.61 | 9.54 | 10.67 |
| Skin (lbs) | 3.61 | 4.24 | 7.17 |
| Flesh (%) | 70.5% | 69.2% | 59.8% |
Free download featuring Watermelon Cutting & Yield.
Take the guesswork out of switching between seedless watermelon sizes
Although operator research told us watermelon is viewed as easy to prep, there was an information gap on how to plan for different size watermelon throughout the year. The Board worked with a home economist to help understand the yield from key watermelon sizes in cubes, wedges, juice, etc. as well as yield information on the rind.
What's the best method to remove watermelon seeds?
Although a majority of watermelons available are seedless, these instructions will remove seeds quickly and easily: Wash and quarter a whole melon, then cut each quarter into three or four wedges. Cut lengthwise along the seed line with a paring knife, and lift off piece. Using a fork, scrape seeds both from the removed piece and the remaining flesh on the rind. Use for cubes or continue with recipe.
Stay on top of what's happening with Watermelon
Sign up here to receive the monthly What About Watermelon? enewsletter with seasonal tips, tricks and recipes.