Create Healthy Habits in the New Year
The changing of the calendar to a new year is a perfect opportunity to look toward the future and create better health and wellness habits.
Make Healthy a Way of Life
The start of spring is the perfect time for new beginnings, including a fresh start on eating healthy. The trick is introducing smart eating habits so tasty and easy that your eating plan becomes more a way of life than a short-lived commitment.
Valentine's Day Eats and Treats
Valentine's Day naturally brings thoughts of hearts, flowers, sweetness and love. Because it also occurs during American Heart Month, it's a perfect opportunity to start taking care of your own heart and the hearts of loved ones.
Tasty Ways to Heart your Heart
Valentine's Day naturally brings thoughts of hearts,flowers, sweetness and love. But did you know that it also falls during American Heart Month? A perfect time to start taking care of your heart and the hearts of the ones you love.
Healthier Sweets for your Sweetheart
It's easy to share in the fun of Valentine's Day by serving those you love sweet treats that are a healthier alternative to ordinary, heart-shaped confections. Forget the expensive flowers, wines and chocolates.To really show you care, be a cupid and give your sweetie healthy, delicious treats that feature juicy watermelon.
Springtime Skin Care Tips
Spring brings sunshine and plenty of exciting opportunities to head outdoors for fun with family and friends. While those joyous moments make the season special, all that sun exposure can wreak havoc on the skin without the proper precautions.
Fresh Fruit Flavors
Not only is watermelon a tasty snack by itself, it's a great complement to other flavors, making it easy to create flavorful pairings.
Refreshing Watermelon Delicious Dishes for Every Mealtime
Watermelon conjures images of warm weather days, refreshing sweetness and the delightful dribble of sticky juice dribbling down your chin. Though it is, indeed, a delicious seasonal snack, watermelon is a healthy treat that can be enjoyed year-round and all day long, too.
Kid-Friendly Creativity in the Kitchen

While so many families spend more time at home than normal, many may be seeking ways to increase fun and activity, especially for children. One way to increase engagement while teaching lifelong lessons is to head to the kitchen for a learning exercise in creating nutritious snacks and treats.
Healthy Watermelon On The Go
Long hailed as sweetly satisfying, watermelon may not be the first tasty fruit that comes to mind when you're thinking nutrition. But in fact, watermelon is not only a perfect on-the-go snack to satisfy your sweet tooth, it's also incredibly healthy.
Fresh Ways to Fiesta
At your next gathering, indulge in Mexican-inspired dishes, dips and drinks. It's simple to put a tangy twist on your festive favorites with a refreshing new flavor. Watermelon is a versatile fruit with a flavor profile that pairs perfectly with many of the ingredients in traditional Mexican dishes.
Sweet Meets Spicy
There's no better way to spice up a party than by using unexpected ingredients in fun, flavorful dishes and drinks. For your next fiesta, celebrate a star of the party with sweet and juicy watermelon.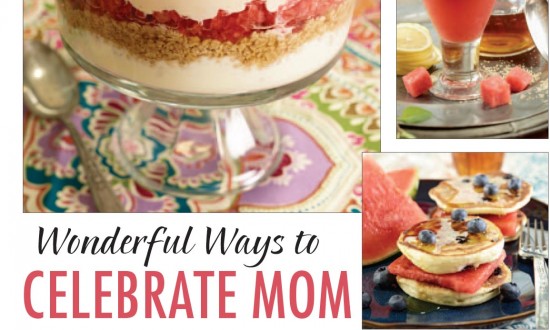 Wonderful Ways To Celebrate Mom
Mothers are incredible people. This year, make sure you properly thank her for all she has done for you by celebrating her with a day she'll cherish forever. We will show you a few ideas you can use to make this one the most memorable yet.
Sweet Patriotic Summer Snacks
Watermelon is a patriotic picnic staple for countless reasons, not the least of which is that it's a beloved treat that many people associate with memories from childhood. Its sweet, cool and refreshing flavor also makes it a favorite for all ages.
Sweet Summer Treats that Beat the Heat
Whether your family's ideal summer day consists of swimming, hiking, biking or simply enjoying the sunshine, all that time in the heat calls for a sweet way to cool off.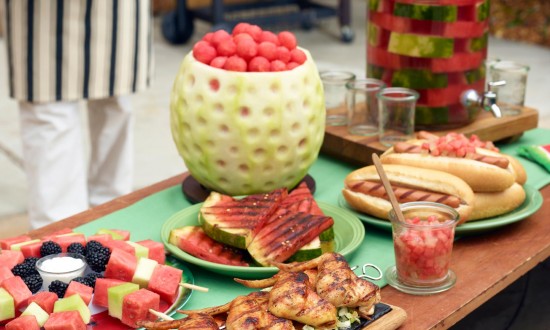 Celebrate Dad with Grilling and Golf
This year for Father's Day, skip the tacky tie and give dad something he truly wants – quality time with the kids who gave him such an honorable title. Plan an intimate family gathering with all his favorite foods and a few special touches that reflect his other passions in life, such as golf.
Summer Splash
There's nothing quite like juicy, fresh watermelon to cool you off on a hot summer day. Whether you want to give the kids a refreshing, healthy snack or wow guests with a watermelon showpiece at a backyard barbecue, these recipes serve up great taste and good nutrition all summer long.
Play with your Food
Summer time means plenty of play time — so why not play with your food? Finding creative ways to enjoy healthy foods like watermelon is a great way to encourage the whole family to eat well — and have fun while doing it.
Sweet Summertime Snack Ideas
In the warm summer months, nothing beats spending time together creating fun snacks that promote healthy eating and a little creativity. The summer boasts a wealth of fresh fruit to draw inspiration from – especially everyone's favorite – watermelon. It's cool, juicy flavor speaks to your senses.
Sweet, Summery Treats
After some fun in the pool and time spent in the sun, a cooling treat is often the perfect way to cap off a summer day. Fresh fruits make those sweet eats even tastier and easier by making dessert in the morning and letting it freeze while you enjoy the warmth outdoors.
All American Summer
Watermelons are a classic summer favorite. Sweet, cool and refreshing, they perk up picnics and keep things cool at cookouts. As good as they are just sliced, there are plenty of ways to dress them up and make them the delicious star of the show. From sweet little petit fours to a star-studded sundae, these recipes will give you reason to celebrate all summer long.
Go Ahead…Eat the Whole Watermelon
Sliced or diced, grilled or blended, there are countless ways to prepare watermelon. With some fruits, half or more is wasted when you throw away the seeds and peel, but you may be surprised to learn that you can use an entire watermelon, including the rind, to make delicious and refreshing dishes.
Making Munchies Matter
Kids love to snack. But left to their own devices, most kids don't always make the healthiest snack choices. A new study of long-term eating patterns in children, from researchers at the University of North Carolina, shows that kids today are getting nearly one-third of their daily calories from unhealthy snacks such as chips, crackers and candy.
Hydrate Your Way to a Healthy Summer
Staying well-hydrated is especially important during the summer months. In addition to normal body functions, higher temperatures draw more water through perspiration, so consciously replacing your fluid content becomes essential for overall health.
Eat Well On-the-Go Perfectly Portable Watermelon Dishes
When looking for portable, grab-and-go foods, think about a multi-purpose treat like watermelon. Not only can watermelon be diced, sliced, balled or blended, it also provides numerous health benefits.
Reserve the Rind
Watermelon rinds make for more than just attractive containers for serving cold dishes and beverages. The rind can also be used in creative, edible ways and is good for your heart. Watermelon, both the flesh and the rind, is a good source of a compound called citrulline, an amino acid that raises levels of arginine in the blood, which in turn helps maintain blood flow, healthy blood vessels and heart health.
Boo-tiful Halloween Carvings
This Halloween, why not put a fun twist on pumpkin carving by making some Jack O'Melons? Watermelons carve up bootifully, and you can eat the fruit right away, making it easy to scare up some delicious Halloween fun.
From Easy Art to a Sweet Treat
Spooky, silly or symbolic, carved pumpkins are an essential ingredient to any Halloween celebration. This year, scare up some special fun for your party with a wicked watermelon carving, instead – but don't stop there.
Perfect Party Carvings for Halloween
It's that time of year – jack-o-melon carving time! Watermelon carvings are a fun and different way to show off your spookiest Halloween faces. Throwing a Monster Mash has never been more fun, and this watermelon carving makes the ultimate centerpiece as the head of Frankenstein.
A Creative Twist on Halloween Carvings
When it comes to Halloween, carving the same pumpkin designs each year can become routine. This year, save a pumpkin and carve your spooky masterpiece into a watermelon instead.
Workout Your Post-Workout Snack
You walked or ran your legs off, biked until you dropped, lifted your body weight at the gym and swam the distance of the English Channel. Now it is time to refuel.
Add Fruity Flavor to Fun Holiday Desserts

Making the holiday season special is an important tradition for many families, and it's likely to take on heightened importance this year with gatherings, celebrations and festivities taking on a different look than years past. One family-favorite way to create holiday magic is through delicious desserts that can be made and enjoyed together.
Warm Up Winter with Watermelon Fun
The cold chill of winter may have you feeling trapped indoors with nothing to do and nowhere to go, but fun activities fit for the whole family can add excitement and chase away those wintertime blues.
How to Host a Hot Winter Party
If cooler temps have you feeling blue, there's no better time for a party with family and friends to lift your spirits. Though you may not want to treat your guests to an al fresco brunch, winter weather shouldn't hold you back from entertaining in style. From playful party games to creative recipes that feature the fresh flavors of watermelon, a little mid-winter gathering is just what you need to beat boredom and get you primed for sunnier months ahead.
Stay on top of what's happening with Watermelon
Sign up here to receive the monthly What About Watermelon? enewsletter with seasonal tips, tricks and recipes.